I have 10, sometimes 11 costume changes per show – that's 22 changes each night. You wouldn't be able to put the feathers on by yourself during a quick change so we have an army of 25 dressers. We don't dance in the nude: we're always completely covered with jewels, feathers, bra and pants. It's very classy, very elegant. Looking glamorous is part of the job. Even if you're feeling terrible, you still have to pull it out of the hat, so that audiences walk away with a smile.
We have two shows every night – one at nine and one at 11, ending around 1am. Yesterday, I went straight home for an early night, because I knew I had a rehearsal today.
Everyone here has a strong classical technique – you wouldn't be able to keep up with the choreography if you didn't. I have been dancing since I was four – growing up, I went to ballet class four or five times a week in Dublin, and finished my dance training in Barcelona. While there I auditioned for the Moulin Rouge. I started in June and feel blessed to be dancing here.
The company is quite considerate – because of the late performances, our rehearsals start at 1pm. I usually go down to the stage to get warm, making sure my hamstrings are stretched, and work on my strengthening exercises. In rehearsal, we usually start with the can-can, so you warm up very quickly. We generally rehearse on stage, while the men rehearse separately.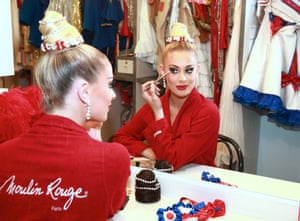 I usually have three or four chorus rehearsals a month, depending on whether anyone new has joined the company. Some new girls are going into the show now, so we go through each of the dances. We concentrate on the can-can, my favourite number. It's very athletic – it lasts for eight minutes, with jumps, splits and high kicks. You train in it for one month when you join, so it gets into your body and becomes very enjoyable. I also love the glamorous showgirl numbers, like the Red Plumes: 60 girls onstage all wearing feathers.
They look after us really well here: there's a gym; a physio and an osteopath come in three or four times a week; and a doctor is here for the first show every night. Even one kick can tear a hamstring, and then you'd be out for weeks.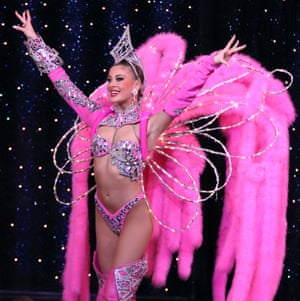 I'm only on my first one-year contract, but some dancers have been here for 15 years. There are 14 different nationalities in the company, and we speak mostly English and French. Backstage, it's good fun, with a family atmosphere. People are competitive, of course – you couldn't be in such a prestigious company if you weren't – but there aren't personal rivalries.
It's an amazing feeling being on stage. Usually I'm the last person off at the end, so I begin to wind down as the girls in front have their plumes removed. I stay up a while: I eat after the show, and might watch a movie. And I always sleep very well.