Locking arms with neighbours while swaying from side to side, hugging friends and planting pecks on passing strangers' cheeks, the women of Cologne on Thursday did their best to banish memories of the mass sexual assault the city saw on New Year's Eve. During the "women's carnival" that traditionally kicks off Cologne's annual carnival, mayor Henriette Reker's advice to keep "an arms length's distance" from strangers was widely ignored.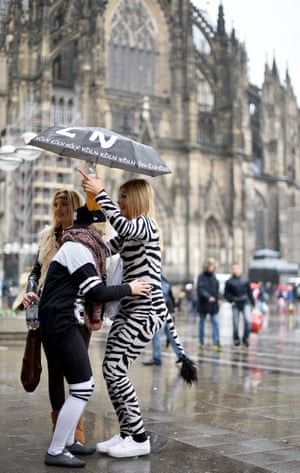 With an unprecedented 3,200 police officers patrolling the city centre and special "women's security points" at central locations, Cologne's new chief of police Jürgen Matheis said the start of the so-called "crazy days" street festival had been "very peaceful", with seven provisional arrests for minor offences. Fewer revellers attended the carnival than in previous years, which organisers attributed mainly to the rain.
One month after the attacks, which resulted in more than 1,000 criminal complaints including 433 for sexual assault, Germany finds itself in the middle of a bout of intense soul searching over its leaders' handling of the refugee crisis. Angela Merkel's approval ratings have dropped to their lowest levels since August 2011 in the latest polls, even though support for the principle of giving asylum to those fleeing war zones remains high, at 94%.
With newly released figures showing that 91,671 more refugees were registered in Germany in the first month of the year, 81% of Germans questioned by pollster Infratest Dimap said they did not think their government was in control of the situation.
Berlin's decision to declare Algeria and Morocco as "safe countries" in a new asylum law passed on Wednesday is seen partly as a reaction to the fact that the majority of suspected attackers in Cologne were migrants from those countries in the Maghreb.
Alternative für Deutschland, the protest party that was launched around an anti-euro cause but has since tacked to an anti-refugee agenda, moved to third spot for the first time, gaining 12% in a poll carried out by state broadcaster ARD.
But in Cologne itself many revellers refused to let their spirits be dampened. "We think it's important to celebrate in spite of everything that has happened recently – it's important not to disappear in our shells at this point", said Paulina Schmidt, 18, who had dressed as a lion. Her schoolfriend Emilia Behrens, wearing a green wig and makeup, said her my mother had told her to take some pepper spray just in case, and to avoid the most crowded squares. "But then you have a beer or two, and you go anyway."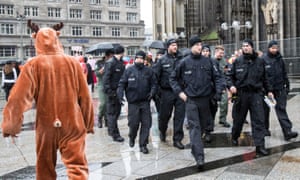 A traditional day of misrule during which women are allowed to ambush men to cut off their ties, the women's carnival, or Weiberfastnacht, is seen by many female party-goers as a symbolic moment of emancipation – even if men in high heels and miniskirts are now as regular a sight. "It angers me that after the events of New Year's Eve women have been forced into a victim role. We just have to be self confident and look after ourselves, in the way we have always done", said Doris Bechtold.
Across the Rhine, in the eastern district of Kalk, Ghanem al-Jebawi, 62, sits in a cafe as men and women dressed as cowboys, cows and cookie monsters stream into the city centre – he had taken pictures of some of the best costumes on his smartphone. An agricultural engineer born in southern Syria, Jebawi has been in Cologne since August 2014, after a journey through Egypt, Italy and Switzerland. He is one of more than 11,000 refugees living in Cologne, a city of about a million total inhabitants.
At first, Jebawi says, he struggled to understand the carnival – no festivals in his native culture involve the same amount of dressing up and loud music – until someone explained to him that carnival had religious roots and carne levaremeant "to remove meat". "It's like celebrating the end of Ramadan, only before the start", his Lebanese friend Noel Adjouri said.
Near the former hotel where Jebawi is housed with his family, social worker Monika Maria Clouth shouted Kölle Alaaf, the traditional carnival greeting meaning "Cologne above all!", while handing out doughnuts and repeatedly assuring refugees that the baked goods did not contain alcohol and had not been fried in lard.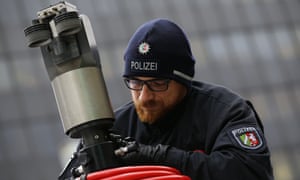 An enthusiastic organiser of joint cooking sessions and bicycle workshops for old and new locals, Clouth said she always felt respected by the people she worked with, but bemoaned the fact that few men let their wives attend social events on their own. "That's still strange to many of them and will require some work," she said.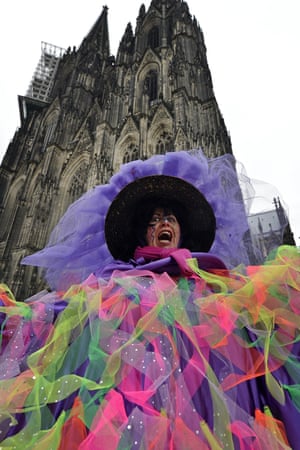 On Tuesday, Catholic charity Caritas had organised a "carnival for beginners" workshop at a refugee centre in Kalk, featuring confetti, schlager music and a PowerPoint presentation featuring a picture of a drunken jester grabbing a woman's breasts with the words "But please be tactful: this kind of behaviour won't be rewarded but only lead to trouble! Guaranteed!!".
Katja Dudenhauser, a teacher who gives language lessons to refugees, said: "I think my students will get to see my country from a different angle – their first impression, that everything is very organised and disciplined here, will change over the next days. And I hope that many of them will take it on board and join us here for carnival."
Last year, Jebawi joined the crowds and was touched by how friendly the revellers were to his handicapped daughter. This year, he said, he wasn't so sure. After New Year's Eve, he said "many people keep their distance". He is working on an alternative tribute to the city, he said, a circular flower display in three separate Cologne parks, made with Damask roses: a bit of Arab culture, growing on German soil.