A world-renowned pianist was murdered on her second wedding anniversary by her classical musician husband who was jealous of her successful career, a court has heard.
Natalia Strelchenko, who was an international concert pianist and used the stage surname Strelle, died shortly after being assaulted in her home in August last year. A Home Office postmortem examination found that Strelchenko had died from head and neck injuries.
Strelchenko, 38, a Norwegian pianist of Russian origin, had performed at prestigious venues all over the world, including London's Wigmore Hall, New York's Carnegie Hall and the Französischer Dom in Berlin.
Her husband John Martin, 48, a concert double bass player, also played at high-profile venues globally. Martin has gone on trial for her murder, and is also charged with the attempted murder of a boy under the age of 17, who cannot be named for legal reasons.
Strelchenko met Martin when she moved to the UK and the couple lived together in a detached house in Newton Heath, Greater Manchester. They had been together for about six years, but their relationship was described in court as tumultuous.
Prosecutor Robert Hall said: "Soon after their meeting they began a romantic relationship. It was marked by tension. Natalia complained he controlled her and was very jealous – made worse by the fact her career had taken off, while his had not.
"They would also argue regularly about financial affairs. Those arguments and tensions would on occasion reach a high level. Often, once the heat of the arguments had died down, what would follow would be apologies from this defendant. On occasions he would physically restrain Natalia from leaving their home. On occasions the rows would be public."
At 1am on Sunday 30 August last year, Strelchenko was found with severe head and neck injuries at the couple's home.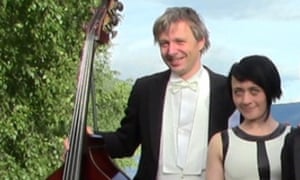 "The blows inflicted were so severe that her facial bones were left free floating from her skull. Her jaw had also been snapped in half," said Hall.
In the months and weeks leading up to her death the jury heard that the couple had frequently argued, sometimes in public, with Strelchenko's friends becoming increasingly concerned.
A month before her death Martin had thrown Strelchenko out of their home. Police were called during the dispute over a mobile phone bill. Strelchenko did not return to the house and instead went on a musicians course. Martin then contacted her friends saying he "wanted her back".
The jury heard that Strelchenko's former husband tried to persuade her not to go back to Martin and instead live in a flat she owned in Belfort, France. She was due to start a job in the country on 7 September 2015.
Five days later Martin sent a text to Strelchenko's publicist trying to excuse his behaviour. He wrote: "The background to those things happening on Saturday were more than preventative on my side. She drives me crazy and must be stopped when it happens."
Strelchenko eventually moved back to the property but tension between the couple continued to grow. Friends said the couple, who married in Norway in 2013, would argue two to three times a day.
On 27 August, a Polish violinist friend of Strelchenko's came to visit and the two recorded some songs together. Martin grew angry and contacted a family friend "upset and angry" that she had invited other musicians to their home.
Hall said the violinist saw the couple arguing regularly. "The defendant felt that it was his house: he didn't like Natalia operating independently," said Hall.
On 29 August, the couple rowed again after Strelchenko advertised their family home on a property exchange website, with Martin becoming "anxious" and "distracted".
That night, Martin disappeared from the house for a number of hours and when he returned just before midnight he was in a "threatening mood".
The court heard that Strelchenko's friend, the Polish violinist, saw Martin throw her and himself down the stairs, before strangling her. The friend fled the property and called the emergency services while Martin continued to beat Strelchenko.
"He has continued to assault Natalia, by repeatedly striking her to the face and neck," said Hall.
The following day, Martin was arrested for murder, and said: "I don't remember anything … all I remember is I woke up here."
"He continues to say he doesn't remember. His mental state will become an important consideration," Hall said.
Martin, who was also Strelchenko's manager, dressed in a pinstripe shirt and grey suit and seemed to study photographs shown to the jury throughout the first day of the trial.
The jury at Manchester crown court were shown photographs of blood spatters on furniture in the house, including Martin's white double bass case.
Hall said: "One thing the crown says is that this is quite simply a case of anger, pure and simple anger. This defendant is not getting what he wanted, reached a point where he lost his temper, and lost it in a very erratic fashion.
"You may think his claims of having no memory, or that depression affected his memory, may ultimately be distractions to lead you away from his guilt."
Martin has pleaded not guilty to all charges. The trial is expected to last three weeks.