Signs of a deepening rift on the Bank of England's monetary policy committee have emerged after Threadneedle Street's chief economist has revealed he seriously considered opposing the governor Mark Carney and voting for an interest rate rise earlier this month.
Just 24 hours after Carney said the state of the economy and the uncertainty caused by Brexit meant borrowing costs should stay on hold, Andy Haldane said it would be prudent to tighten policy before the end of the year.
The June meeting of the MPC resulted in a 5-3 vote in favour of leaving rates on hold, with both the Bank's governor and its chief economist voting with the majority.
But Haldane, previously one of the most dove-ish members of the committee, said the balance of risks had shifted so that the dangers of moving too late outweighed those of raising interest rates too soon.
"The risks of tightening 'too early' have shrunk as growth and, to lesser extent, inflation have shown greater resilience than expected. And if policy tightened 'too late', this could result in a much steeper path of rate rises later on, contrary to the MPC's collective expectation that Bank rate would increase 'at a gradual pace and to a limited extent'", Haldane said in a speech in Bradford.
The Bank reduced interest rates to a record low of 0.25% in the wake of last summer's Brexit vote, but Haldane said despite the possibility that the economy could suffer as a result of Britain's departure from the EU the time for the first increase in borrowing costs in a decade was fast approaching, and would come much more quickly than the City was expecting.
"As the balance point between these risks has shifted over the past nine months, that has left me judging that a partial withdrawal of the additional policy insurance the MPC put in place last year would be prudent relatively soon, provided the data come in broadly as expected in the period ahead. Certainly, I think such a tightening is likely to be needed well ahead of current market expectations."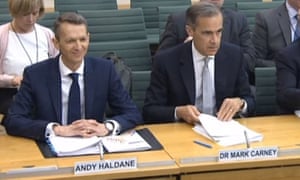 The Bank official said he had voted for no change at the MPC's meeting for two reasons. Firstly, he said there was evidence that de-unionisation, rising self-employment, and the "gig economy" had resulted in weaker wage growth than in the past. Secondly, the election result had thrown up a dust cloud of uncertainty.
"Financial markets-wise, that is manifesting itself in a weaker exchange rate. It is unclear what twists and turns lie ahead, with potentially important implications for asset prices and, at least potentially, confidence among businesses and consumers. I do not think adding a twist or a turn from monetary policy would, in this environment, be especially helpful in building confidence, at least until the dust cloud has started to settle.
"Provided the data are still on track, I do think that beginning the process of withdrawing some of the incremental stimulus provided last August would be prudent moving into the second half of the year."
Haldane said the first rate rise since before the deep recession of 2008-09 should be welcomed rather than feared. "As and when the MPC begins this process of normalising monetary policy, it will be a sign of the economy itself having begun to normalise. Far from being a cause for concern, starting the process of withdrawing some monetary policy insurance should serve as a signal of the MPC's confidence in the UK economy's resilience and in inflation returning sustainably to its 2% target."